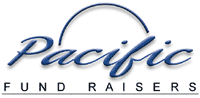 What originally started as L.A. Fundraisers, grew extensively to become known as Pacific Fund Raisers, Inc. We realized that we wanted to serve more than the city of Los Angeles and serve a larger region, the Pacific region.

Since we started, our company has changed and expanded, but one thing has stayed the same: our mission to help schools, sports organizations, and non-profits raise funds that go towards helping them achieve their own goals.
​
Our warehouse is located in Pomona, California, but our Fundraising Coordinators are located across Southern California to help you start your fundraiser. Please contact us to get you connected to your designated Fundraising Coordinator.
Our Fundraising Coordinator will assist you in setting a Start Date for a two-week Fundraiser

We will then generate a personalized online code to order, a digital letter for parents, and a motivational prize video to excite students

After your two-week fundraiser is complete, we individually pack all orders with earned FREE prizes

From this point, a delivery will be scheduled 1-2 weeks out | We have a contactless "Grab N Go" distribution process to ensure COVID safety

If for any reason, there are missing items contact our office and we will ensure delivery of those items
Pacific Fundraisers' number one goal is to maximize your school's profit! In addition to our services, we provide free prizes, delivery, and any fundraising materials needed at no extra cost. We offer the lowest-priced items, at the highest quality, to ensure a high-profit fundraiser.
We have flexible distribution methods to help keep staff and families safe during this time. We are now able to set up "Grab N Go" distributions from school parking lots. Essentially, those who come to pick up their order will open the trunk of their car, and employees with gloves and masks will place orders inside.
If you would like our Fundraising Coordinators to attend a virtual meeting to discuss setting up a fundraiser at your school, or additional information regarding our products and process let us know! If you let us know in advance, we can drop off samples at your school to distribute and enjoy during the virtual meeting.
If you have any questions or concerns throughout your fundraiser we are always happy to help! If any items are missing from an order, give us a call and we will fulfill it. A fundraiser isn't complete until all customers are completely satisfied. We hope that once your fundraiser is complete, to continue working with you in the future and build strong relationships.